Non-fungible tokens (NFTs) are revolutionizing the digital asset industry. As the popularity of NFTs continues to grow, it's becoming increasingly important to choose the right development company for your project.
To help you in your search, we've compiled a list of the top 10 BEST NFT Development Companies in 2023. These companies offer the highest quality services, and they are all experts in creating secure, reliable, and innovative NFT solutions.
1) Dapper Labs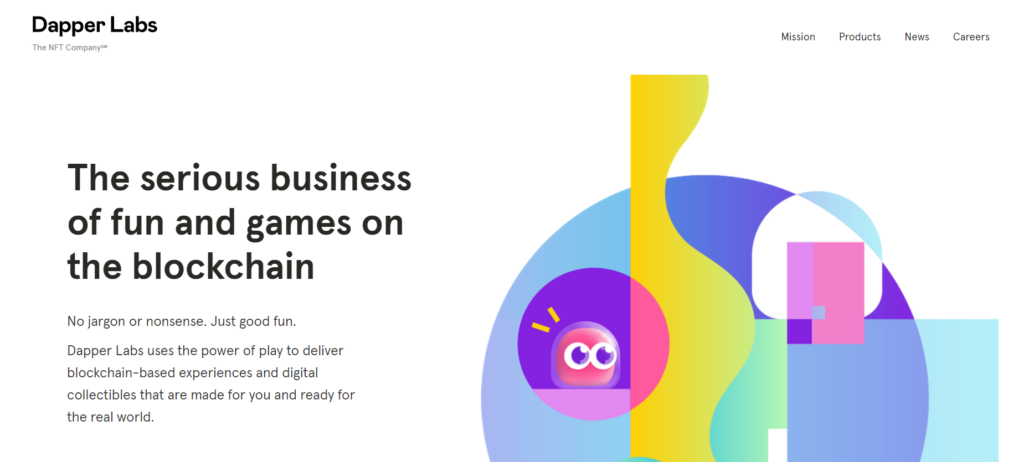 Dapper Labs is one of the leading companies in the NFT development space. Founded in 2018, they have quickly become a leader in the blockchain gaming and entertainment industry. With their team of talented developers, designers, and other professionals, Dapper Labs is creating experiences that are redefining how people interact with digital goods.
Their first major product was CryptoKitties, which was the world's first digital collectable game built on the Ethereum blockchain. The success of CryptoKitties led to the creation of the Flow blockchain, which is a platform dedicated to building the future of decentralized entertainment. Flow provides developers with the tools to build innovative games and applications that are backed by true digital ownership.
The company also runs NBA Top Shot, a blockchain-based basketball game that has become extremely popular with fans. It allows users to buy, sell, and trade special edition basketball moments. As of 2021, it is one of the most successful NFT projects of all time.
Aside from these two main products, Dapper Labs has developed several other blockchain games and applications such as Cheeze Wizards, Hyperdragons, Dapper Heroes, and more. They are also exploring other industries where blockchain technology can make an impact, such as music and art.
If you're looking for a reliable NFT development partner, then Dapper Labs should be at the top of your list. With their experience and expertise, they are well-equipped to provide you with top-notch development services for your project.
2) Animoca Brands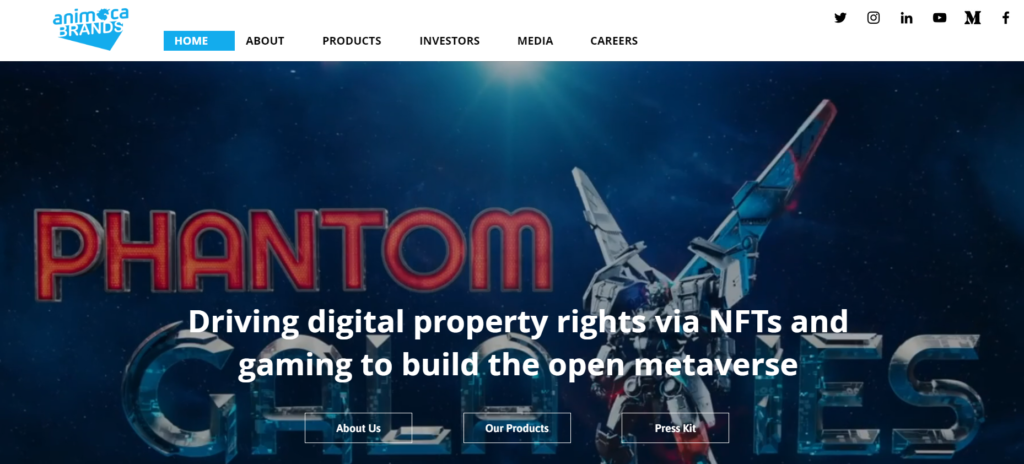 Animoca Brands is an award-winning NFT development company that offers cutting-edge technology and creative solutions for a wide range of industries. They specialize in blockchain-based gaming, entertainment, sports, and other digital assets.
Animoca Brands' development team has the skills and experience to create unique experiences for their clients. They are renowned for their innovative ideas and their ability to customize user experiences to match the needs of their clients. Animoca Brands also offers a variety of services, including smart contract development, asset management, game design, and marketing.
The team at Animoca Brands is well-versed in the NFT industry and keeps up to date with new trends and developments. They strive to provide the best possible experience for their clients by making sure that their products are of the highest quality. With years of experience in the field, Animoca Brands has earned its place as one of the top NFT development companies in 2023.
3) Decentraland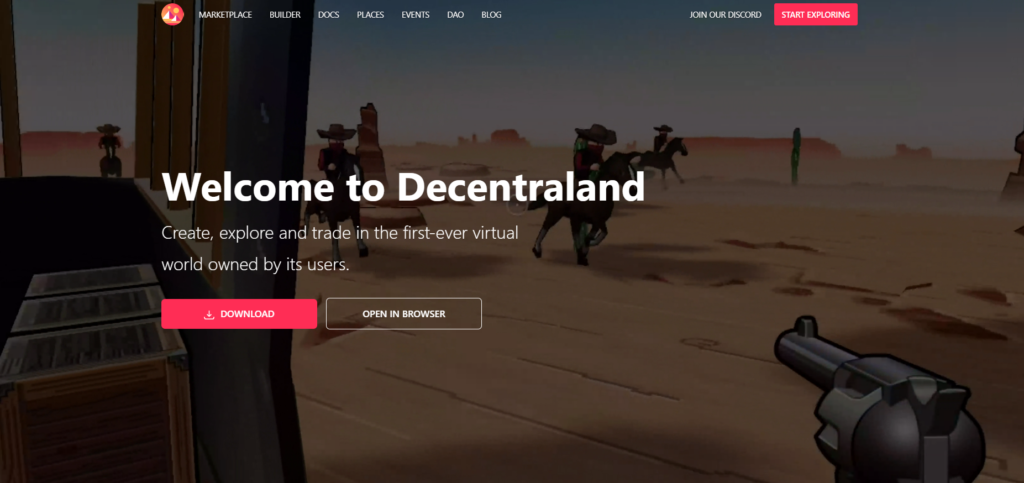 Decentraland is one of the leading NFT development companies in the world. They have created a virtual world built on Ethereum and the InterPlanetary File System (IPFS) that allows users to explore and interact with digital assets. With Decentraland, users can buy, sell, and trade virtual land parcels, goods, and services with their crypto assets.
The team at Decentraland consists of experienced developers, entrepreneurs, and creatives who have worked in various fields like gaming, blockchain, 3D content creation, virtual reality, and more. Their platform allows users to create experiences that are limited only by their imagination. From art galleries to virtual shops to music venues and theme parks, Decentraland offers users the opportunity to build their own virtual paradise.
Their platform provides a secure environment for NFTs and allows users to build their own monetization models. It also supports innovative ways of creating new experiences such as tokenized governance and multi-player games.
Decentraland is one of the most popular platforms for NFT development, and they are quickly becoming a leader in the industry. With its unique capabilities, Decentraland is paving the way for the future of digital asset trading.
4) Enjin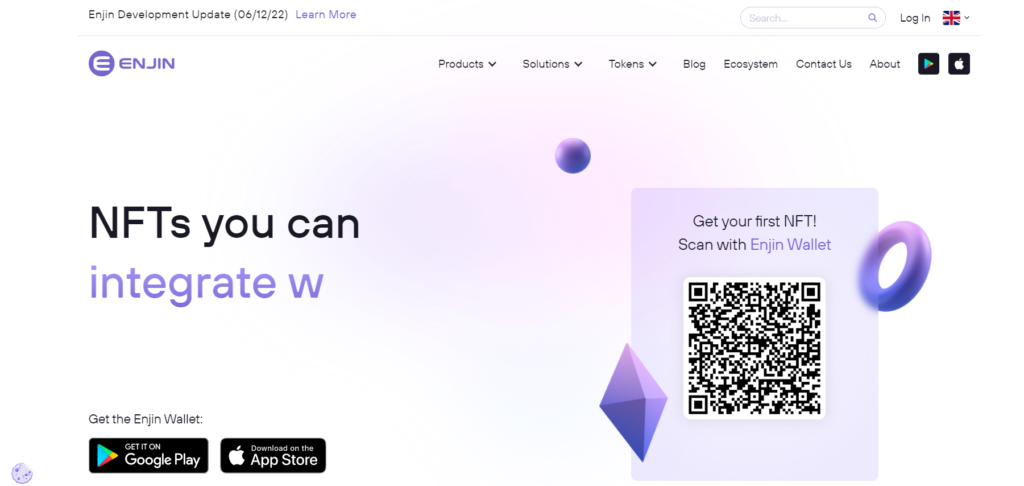 Enjin is a leading NFT development company in 2023, providing innovative and cutting-edge solutions for the blockchain-based gaming industry. The company offers a wide range of services from developing custom NFTs to creating minting and trading tools and provides top-notch technical support and training.
Enjin has been part of the NFT space since 2017 and has quickly become one of the most trusted names in the industry. They offer a suite of powerful tools that allow developers to create and launch their own NFTs with ease. With its own ERC-1155 token standard, Enjin has revolutionized the way developers create and manage digital assets. In addition, the company offers comprehensive platform support, which includes integration with Ethereum wallets, Metamask, and Ledger wallets.
The team at Enjin is composed of experienced professionals who are passionate about creating and developing innovative NFT applications. Enjin is also active in the community, engaging with both developers and users to ensure that their products are reliable and user-friendly.
In addition to providing top-notch development services, Enjin also provides powerful marketing solutions, including promotion campaigns and partnerships with leading blockchain projects. This allows them to be more efficient in promoting their products, helping their customers to reach more potential users and increase their market share.
If you're looking for a reliable partner for your NFT development needs, then look no further than Enjin. With its dedicated team of experts and comprehensive suite of services, Enjin is one of the best NFT development companies in 2023.
5) The Sandbox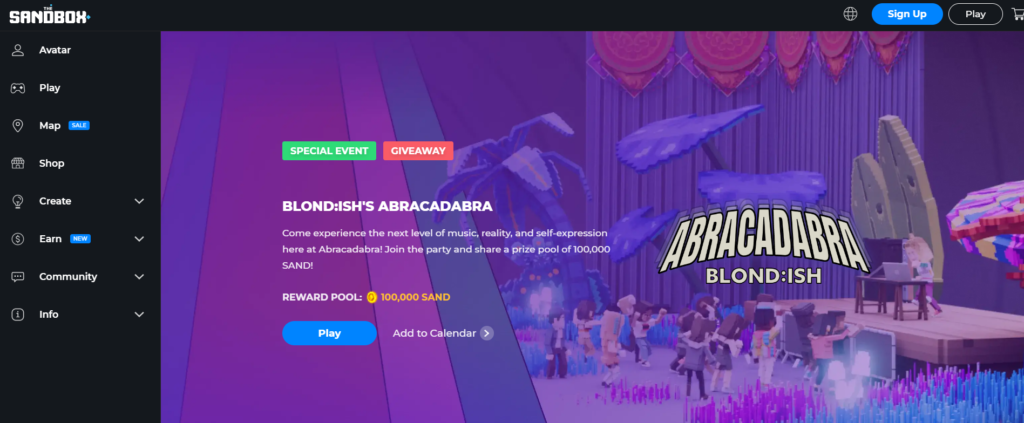 The Sandbox is one of the top NFT development companies in 2023. They specialize in creating custom NFTs and gaming assets for large-scale projects. The company has a team of experienced game developers and blockchain engineers who work together to create unique, valuable, and safe digital assets.
With a focus on scalability, security, and interoperability, they are able to create high-quality, decentralized experiences that span all platforms. Their expertise in blockchain, gaming, and design allows them to create the best possible user experience for their clients.
As the demand for NFTs continues to grow, The Sandbox remains committed to providing clients with innovative solutions that meet their specific needs. They are constantly exploring new technologies and tools to help them better serve their customers.
6) Axie Infinity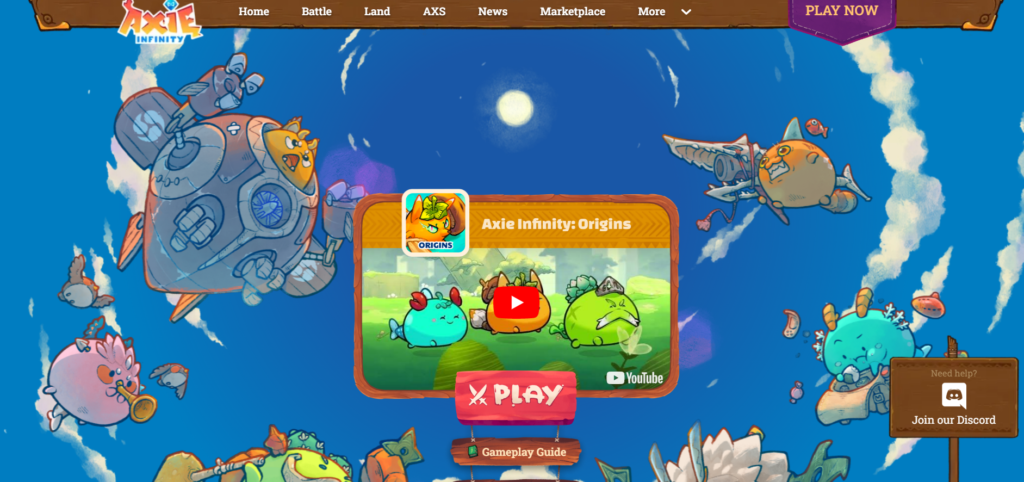 Axie Infinity is a blockchain-based gaming platform that allows players to collect and battle fantasy creatures called Axies. It uses Ethereum's ERC-721 standard to represent unique items, known as Non-Fungible Tokens (NFTs). The NFTs are used to buy, sell, breed, and battle digital creatures on the platform.
Axie Infinity provides a vibrant ecosystem for gamers, creators, and developers alike. They are continuously working to improve the game's features, such as new Axie types, better rewards, and innovative ways to use NFTs.
The company has raised millions of dollars in venture funding and has grown rapidly since its launch in 2018. With its growing popularity, it is becoming one of the top NFT development companies in the world. Its experienced team of developers is well-versed in Ethereum development and can provide professional services related to the creation of NFTs and other blockchain-related projects.
Axie Infinity also offers a marketplace where users can buy and sell NFTs, such as rare Axies or other digital assets. The company is also exploring ways to integrate NFTs into gaming experiences outside of the Axie world. This could potentially revolutionize gaming as we know it!
With its cutting-edge technology, reliable customer service, and years of experience in the industry, Axie Infinity is surely one of the best NFT development companies in 2023.

7) MakerDAO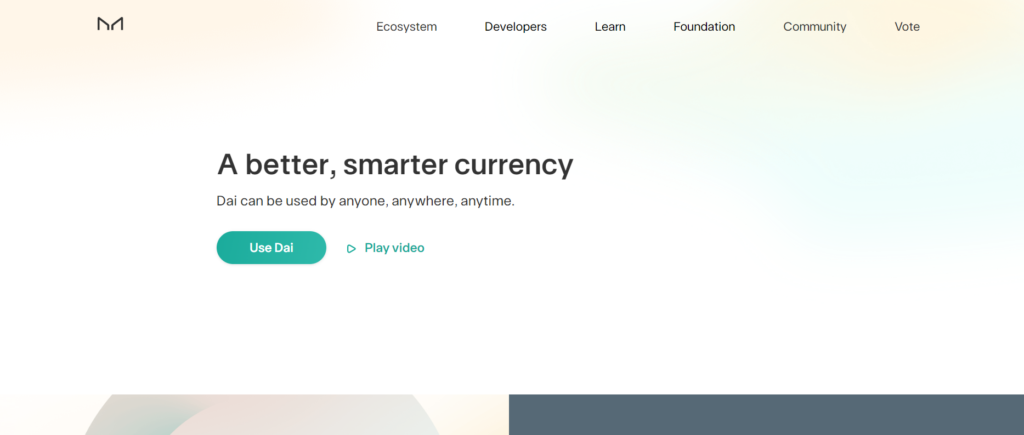 MakerDAO is one of the top NFT development companies on the market today. They offer a range of services to businesses looking to get involved with non-fungible tokens (NFTs). From smart contract development to asset tokenization, MakerDAO has you covered.
They're experienced in the field and have helped launch some of the most successful NFT projects, such as CryptoKitties and Decentraland. Their team of highly skilled engineers and developers are capable of building efficient and secure solutions for any type of project.
With their expertise, MakerDAO can provide clients with a complete package of services, from designing to deployment, allowing them to easily transition into the world of NFTs.
8) Rare Bits
As the Non-Fungible Token (NFT) ecosystem continues to grow, many companies are developing creative solutions to make NFTs more accessible and easier to use. With the surge in demand for NFTs, it's no surprise that companies are stepping up to provide NFT development services.
Rare Bits is one of the leading companies in the industry, providing a comprehensive suite of tools for NFT creation and management. Their platform allows users to easily create and manage their own digital assets and view a marketplace of available items. Rare Bits also supports smart contract-based token transactions, making it easier to securely transfer ownership of assets.
What sets Rare Bits apart from the competition is its commitment to innovation. They continue to explore new ways of leveraging blockchain technology to build better solutions for the NFT space. Their team of experienced engineers, designers, and product managers are continually pushing the boundaries of what's possible in the industry.
With Rare Bits, you can rest assured that your project will be handled by experts who understand the intricacies of the NFT space. Whether you're looking to create your own unique asset or trade existing ones, Rare Bits has you covered.
If you're looking for top-notch NFT development services, look no further than Rare Bits. Their extensive suite of tools makes them one of the best NFT development companies in the business.

9) Opensea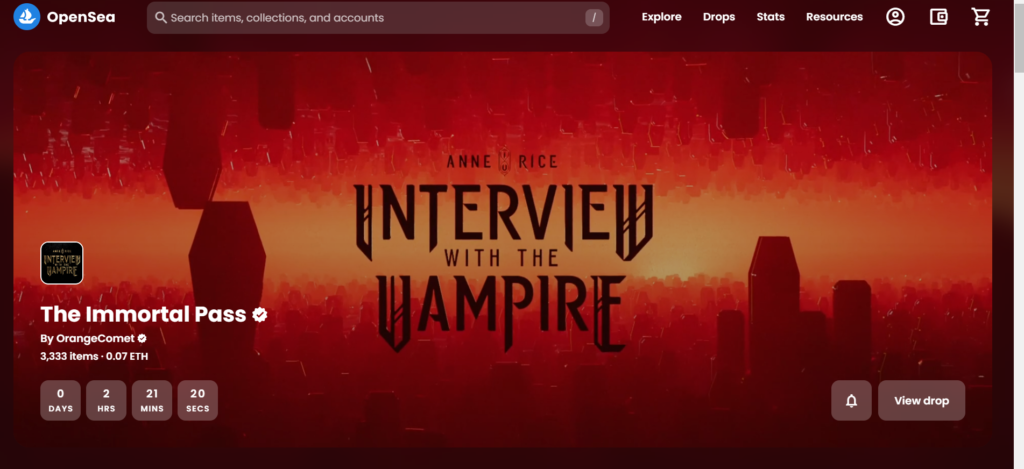 Opensea is one of the leading NFT development companies in the market today. They specialize in creating groundbreaking products for the blockchain space and have a strong track record of developing projects that stand out from the competition.
Their unique approach to NFT development has allowed them to build some of the most impressive projects in the industry. They use a mix of creative ideas, cutting-edge technology, and technical expertise to create innovative products. Their clients range from large corporations to small startups, and they're always pushing the boundaries of what's possible with NFTs.
Opensea has worked on projects for major companies like Microsoft, Visa, and Amazon. They have also created custom NFT projects for notable organizations such as Sotheby's and Christie's. Additionally, they've been featured in publications such as Forbes, Bloomberg, and TechCrunch. This recognition speaks to their quality of work and their ability to stay ahead of the trends.
In addition to their cutting-edge technology and innovation, Opensea also provides exceptional customer service. Their team is always willing to help with any project or issue that may arise. They have a dedicated support team that can help with anything from code review to deployment assistance.
Overall, Opensea is one of the top NFT development companies in the industry today. They are constantly pushing the boundaries of what's possible with NFTs, and their client base speaks volumes about the quality of their work. If you're looking for an experienced team that can handle your NFT project, look no further than Opensea.
10) Pixelmatic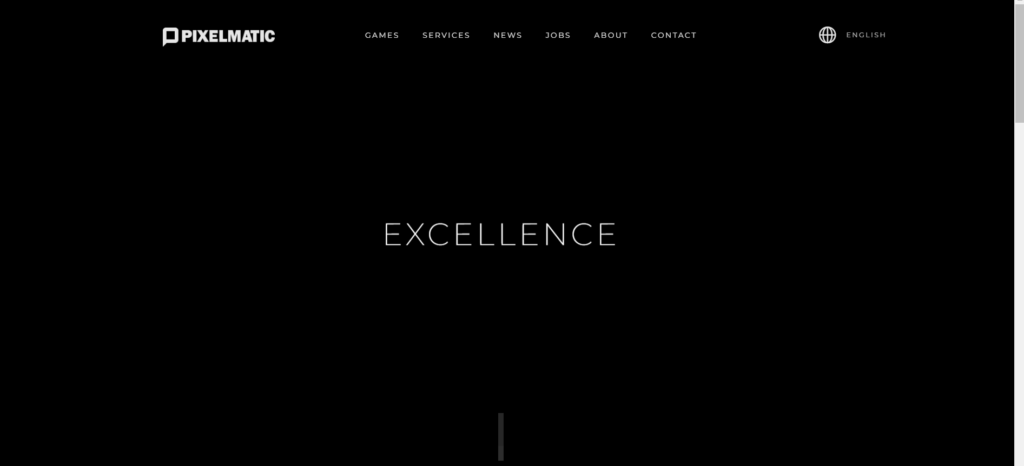 Pixelmatic is one of the top NFT development companies in 2023. With a wide range of experience and expertise in the NFT field, Pixelmatic has been consistently recognized as a leader in the industry. Their team of experts are well-versed in the use of blockchain technology and its related technologies such as smart contracts, token economics, and digital asset management.
In addition to creating NFTs, Pixelmatic also provides services such as custom token minting, asset lifecycle management, secondary market trading, and custody solutions. With their extensive experience in the NFT industry, Pixelmatic is able to provide tailored solutions for businesses looking to leverage blockchain technology for their products and services.
The team at Pixelmatic is highly knowledgeable about the various applications of blockchain technology and its associated technologies. They have helped numerous organizations develop and launch successful blockchain projects and products with the assistance of their expertise. With their extensive experience in the NFT space, Pixelmatic is well-positioned to help businesses build upon their success and realize their goals.
Pixelmatic is committed to providing superior customer service by offering top-notch support, advice, and guidance to ensure the success of any project they take on. They offer customized NFT solutions to help businesses reach their objectives quickly and efficiently. Their team understands the current landscape of the NFT industry and uses this knowledge to drive innovation and create solutions that meet the needs of customers.
Pixelmatic is an excellent choice for businesses looking to get started with NFT development in 2023. With their comprehensive understanding of the technology and their commitment to customer satisfaction, they are sure to help businesses create successful projects that make a lasting impact on the world.
Conclusion
As the NFT market continues to grow and evolve, there is a need for experienced NFT development companies that are capable of creating cutting-edge solutions. In this article, we have identified the top 10 best NFT development companies in 2023. These companies have all demonstrated the capability to create engaging NFT experiences while providing reliable and secure services.
No matter the type of NFT project you have in mind, these companies can provide the experience and expertise needed to ensure success. From managing blockchain infrastructure to tokenizing artwork and more, these companies have the skills and knowledge necessary to help make your project come to life.
If you're looking for an experienced NFT development company for your project, be sure to check out our list of the top 10 BEST NFT development companies in 2023. With their proven track record and expertise, you can rest assured knowing your project will be in good hands.